V and I do not get very many unanticipated visitors at our front door, so when the doorbell rings unexpectedly we react with an increased level of alertness. I am the one to answer the door, and I am armed.
This article from the Star Telegram illustrates why it is important to take a stranger at your door seriously:
By Mark Agee
NORTH RICHLAND HILLS -- A 68-year-old woman was fatally shot Sunday evening by a man who knocked on the door of her home in an upscale neighborhood in North Richland Hills, police said.
This is in a very nice neighborhood, much newer and quite a bit more expensive than where I live. These folks felt secure and safe, no need to worry about an unexpected knock at the door.
Marianne Wilkinson died about 8 p.m. at the scene in the 8400 block of Spence Court, near the border with Keller.

Her husband told police that the couple were watching television alone in the house when an unknown person knocked, said investigator Larry Irving, a police spokesman.

The wife answered the door.

The husband told investigators he then heard three or four shots, Irving said.

The husband said he found his wife bleeding in the foyer, Irving said.
I can not imagine the anguish that Mr. Wilkinson is going through right now, his life shattered in one quick moment of horrific violence.
I do not pretend to know what goes through a goblin's mind that allows him to murder an old lady in her foyer, but the last thing that should have gone through this particular goblin's mind was 230 grains of copper jacketed lead alloy. Just knowing that goblins such as this exist should give each and every one of us pause. What are you going to do the next time your doorbell rings unexpectedly?
There are many home security devices that help to decrease your risk at the front door. The most basic is a peep hole and a motion activated porch light. Add to that a relatively inexpensive intercom with a video camera, and you can answer the door from a safe location. For a few dollars more you can have a wireless video setup that can be accessed from your television. All of these help to improve your security.
One thing we worked on during the handgun course a
couple of weeks back
was a covert means of having a handgun in hand when opening a door. My able bodied assistant demonstrates: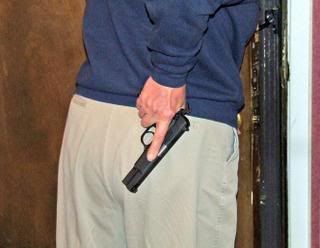 Steve did a good job of running us through this drill until everyone was comfortable with safely presenting a handgun from this position and getting off fast and accurate shots.
Couple electronic security with the ability to protect yourself, and you will be way ahead of the curve.
Speaking of our recent handgun course, the couple that attended the course with us decided to get their CHL's as Christmas presents to each other. I'm excited for them.