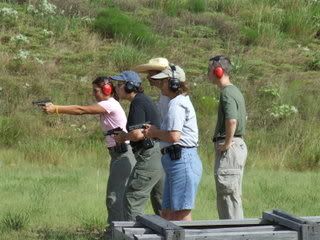 Yesterday V completed her one day Women's Pistol Course at
Tiger Valley
. There were three women attending the course and two instructors teaching it.
It was hot (95°F+) and muggy, typical for Texas this time of year. We did have a breeze, and it was a beautiful day.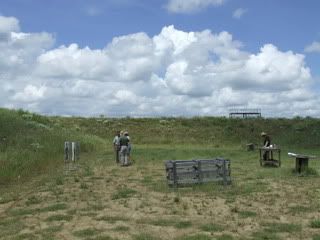 V enjoyed herself and learned a lot. She is now interested in going to the range with me to work on drills instead of just plink. That in and of itself made this training day a success.
I had sole use of the falling plate bay. Yep, it was just me against the plate racks. I had a blast. My range does not allow the use of steel targets in the pistol bays, so shooting plates is always a treat. I also had the chance to put some Federal HST +P through my Kimber. I called Kimber a couple of weeks ago to inquire about using the HST +P in my alloy frame Pro Carry II, and they assured me that it was no problem. After shooting the +P's, I am back to being concerned about my frame.
I guess I could just choose a steel framed pistol for carry...