V and I are back from San Antonio. I am getting caught up on my reading (both blogs and the news), quite a lot happened over the past long weekend. I thought I might post a bit of what we did on our vacation weekend.
Saturday was pretty much taken up by a bit of business we had to attend to, but we did end up on the
River Walk
for dinner. We ate at
The Original Mexican
Restaurant, then enjoyed a bit of the evening people watching that is probably the biggest attraction of the River Walk.
On Sunday we visited the
The Alamo
. All I can say about the Alamo is that in a quiet moment you can still hear the battle rage around you, and feel the determination of it's defenders forever enshrined it it's walls.
Lunch and dinner were again on the River Walk. Lunch was at the
Iron Cactus
(by far the best margaritas on the walk) and dinner was at
Pesca
, and was a real treat. Pesca has one of the better wine lists around, along with outstanding shellfish and seafood. With all the eating we did, it is a good thing we also did so much walking. One great thing about the River Walk is that there are no hand rails along the majority of the walk. Visitors are responsible for keeping themselves, and their children, out of the river. The nanny state has not yet reached this attraction.
I did not go into this place...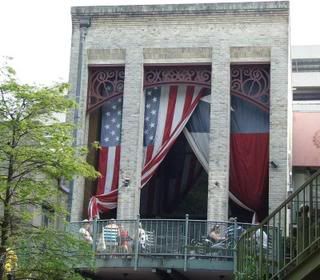 ...and have a Shiner. Nope, that would put me cross ways with the law. A law abiding CHL holder would not enter an establishment that derives more than 51% of it's revenue from alcohol sales, that would be a felony in Texas. A free citizen on the other hand...
San Antonio is a great place to visit. The Alamo and the River Walk are worthy destination spots from anywhere