By Chris Vaughn
WEATHERFORD — The woman wears a knee-length dress and has a dark coat, about the same color as her hair. She has a berette on the left side.

She stands in front of a couple of shrubs, at what appears to be the side of a house. She isn't smiling, but neither does she look unhappy.

For decades, she has not moved, her photo overlaid with plexiglass and screwed into the grip of an Army-issue 1943 .45-caliber. She is almost certainly the sweetheart of a U.S. serviceman who fought the Nazis or the Japanese during the Second World War.

"It's got a pretty good history somewhere," said Parker County Sheriff Larry Fowler.

Trouble is, Fowler hasn't been able to crack this case. Not for lack of trying, though...

...Last December, Parker County deputies executed a search warrant at a house in search of a suspect. He wasn't there, but they found the gun under a mattress. The homeowner told them he thought it was stolen.
Someone here in North Texas is missing an important family heirloom. I'll bet the goblin stole it from an elderly couple and they may not even know it is missing. Heck, it may not even have been stolen in N. Texas. It sure would be nice to reunite this piece of American history back with the family who owns it.
Here is an image of the grips: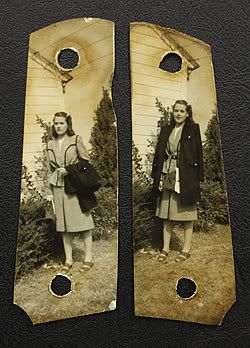 Anyone with information about the woman or the pistol can contact the Parker County Sheriff's Department at (817) 594-8845.
Update:
Great News, Mystery Solved