Note to self:
If you go to the range to try out new ammunition, remember to put said ammo into your range bag.
Here I sit, looking at my brand new box of Federal HST. This is the same box of ammo that I intended to function check this afternoon at the range. Does not do me much good sitting on my computer desk. It is a good thing that was not the main reason for my heading to the range today. My daughter is heading back to DE tomorrow, so today was one last day at the range together until next summer.
I sighted the Martini in at 50 yards for her, and she shot up a couple of targets to take home and show off to friends.
This is my five shot group after the sight in, not to bad (not to great either) for peep sights using Remington Golden Bullets. The basic Remington high velocity plated round nose .22 long rifle at 50 yards.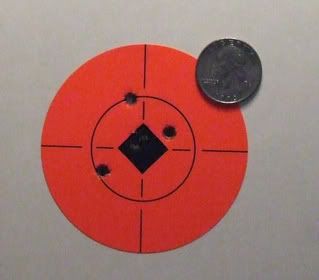 My daughter had a good time and put several hundred rounds into a 5 inch circle. We shot off of sandbags and it was a good, relaxing day at the range.