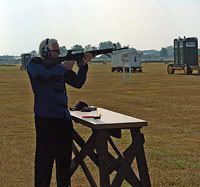 From the
Civilian Marksmanship Program
:
By Spc. John D. Ortiz, 211th Military Public Affairs Detachment
CAMP PERRY, OHIO – Over 600 officials, competitors and spectators gathered at Camp Perry's Rodriquez Range for the 2007 National Matches First Shot Ceremony Monday afternoon.

The First Shot Ceremony is the traditional opening for the National Matches. This year's speaker was Deputy Assistant Secretary of the Army, Mr. John McLaurin III.

The National Matches, created by the U. S. government in 1903, have a proud heritage that looks back to the National Rifle Association's 'Annual Matches' that began in 1873 and to the establishment of Camp Perry in 1907.
Click the image to read more.