It seems that every couple of months now, there is an article written about an increase in Texas CHL applications.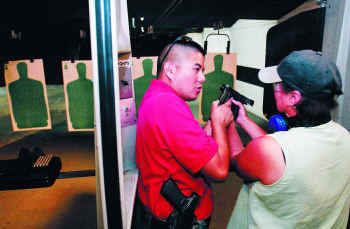 Here is the latest from the
Dallas Morning News
:
By Daniel Monteverde
...Mrs. Denman is one of more than 52,000 people in the state who have submitted an application for a first-time concealed handgun license or renewal since the beginning of the year, according to figures from the Texas Department of Public Safety. That is an almost 5 percent increase over the first six months of 2007.

The crunch – which some say is spurred by concerns about rising crime, the state's new castle law and uncertainty about future gun laws – has created a ballooning backlog of applications for the department and angered gun proponents.

"Can you imagine if it was a driver's license and someone says you just can't drive?" said Alice Tripp, legislative director for the Texas State Rifle Association.
The Dallas Morning News is an unabashedly anti gun news rag, and it must really be chapping their arses to see trends like this. More and more law abiding gun owners applying for CHL's.
There is one thing about people who take the time and effort to obtain a CHL that I know our legislators are taking into account. An individual with a CHL is an individual who is very likely to vote, and even get others to vote.
Also commenting is Robb with
Look at all those law-abiding gun owners
.